Platinum Kamakura Pens "General Grant" Maki-e #3776 Fountain Pen with Music nib
This is a used pen. But its in amazing condition. We have only ever seen this one in our hands before. This is a pen that I would actually consider "rare".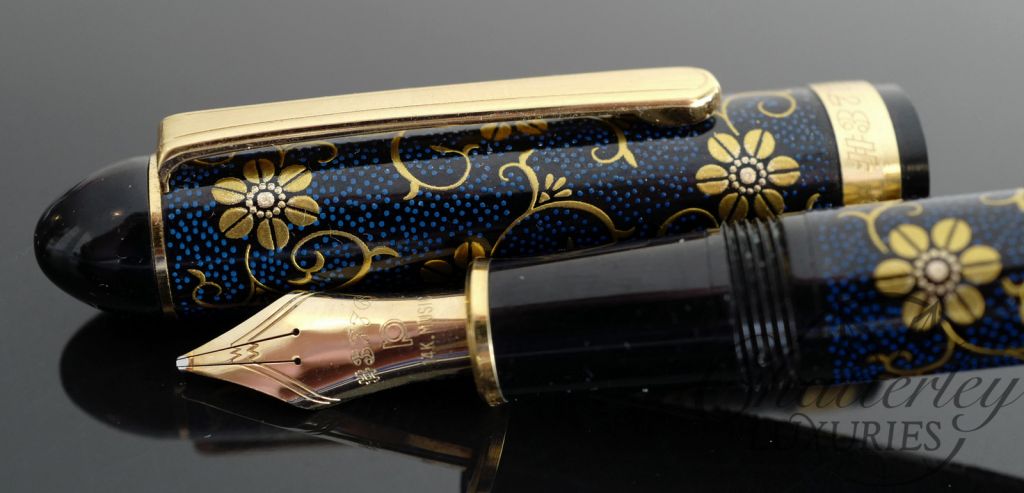 Here is the is the original copy of the pens.
The Kamakura Pens 2006 L.E.
Platinum 3776 Maki-e Music Pen "My failures have been errors of judgment, not strokes from my pen." -U.S. Grant
For 2006 Kamakura Pens released two designs for our Limited Edition Pens. Our first Pen back in 2004 was the Shonan Coast, then in 2005 we issued the Ryuku Dragon Pen, This year we have the Mikaeri Bijin pen and this President Grant pen. The pen up for auction
How Grant became associated with a maki-e design is quite a story. Ex-president Grant along with his wife, Julia and their son Col. Frederick Grant sailed into Yokohama on July 3rd, 1879. In 1877, While Grant was acting president, he had stressed to congress that Japan was an important market and allay that the US shouldn't ignore. In 1879, Japan was having struggles with Russia and China. Japan desperately sought to become associated with the US, and they saw the former president as an excellent ambassador, so they invited the Grants to visit Japan.
The Grants were greeted in Yokohama with huge crowds of cheering welcomers. Japanese and US flags filled the sky. This was the first time that any important US dignitary had visited Japan, and the Japanese pulled no stops in giving the Grants a royal welcome. A band had been arranged months earlier for the occasion and learned how to play western musical instruments. As Grant walked from the ship to the train they played and repeated "Hail Columbia" the only song they had time enough to master.
The Grants were taken by train from Yokohama to Tokyo and shown their quarters at the Enryokan. This was a building inside the emperor's palace grounds that had been refurbished for western guests. President Grant was then taken to meet emperor Meiji in person.
This meeting was quite tense both for the Japanese and the American Party. Just a few years earlier Emperor Meiji was still wearing the traditional silk kimonos. But now he was wearing an ornate military uniform. The shocking point of the meeting was when Emperor Meiji shook hands with Grant. Never before had a Japanese emperor touched a commoner, let alone a Western person. In the movie, "Last Samurai" with Tom Cruise, t was a scene w Captain Aldren meets Emperor Meiji. This scene was based on Grant's meeting with the Emperor.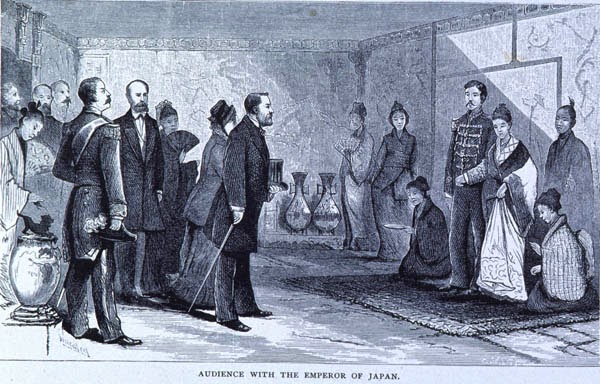 Above is President Grant's first meeting with Emperor Meiji on July 3rd 1879. In the image we see Grant with his wife Julia beside him. Meiji is wearing his Uniform with the Empress at his side.
With the success of that meeting, The Grants were waited on hand and foot. At one dinner, Mrs. Grant complimented the lacquerware at the Palace. The next day, messengers delivered a complete duplicate set. Later, in Grant's last meeting with Emperor Meiji, President Grant was presented a maki-e cigar box with a special design, and this is the design we have used to adorn this pen.
It is a little hard to see, but look at Meiji's uniform. It is a dark, royal blue with Gold Chrysanthemums and ivy. This design was utilized on Grant's Cigar box. The design was to signify that this was a special gift from the emperor himself. The Cigar box still exists and is presently a part of the Smithsonian collection.