Signum Nova Black and Gold Fountain Pen 18KT Gold Nib
Signum is a latin word which means sign. This line refers to the trace left by roman chariot in its route. Because of this Guidolin brothers thought the word "Signum" could perfectly represent the meaning that they would like to give to their products: the path of the writing from antiquity to today and that will continue in the future. The passion and devotion of each member of Guidolin family has been a key factor in the success of their products.
They cooperate every day in each step of production process: from design to production in order to obtain excellent pens. This is an art of cooperation typical of artisan familiar companies. Signum offers a wide range of writing products: fountain pens, roller pens, ballpoint pens and pencils.
Crafted in Italy by Signum, this line of pens is no longer being manufactured. These pens are brand new and are sold with box and papers, but the boxes have some wear on it and many of them have writing on the outside.
Each pen is fitted with an 18kt gold nib. They are Filled via Cartridge Converter.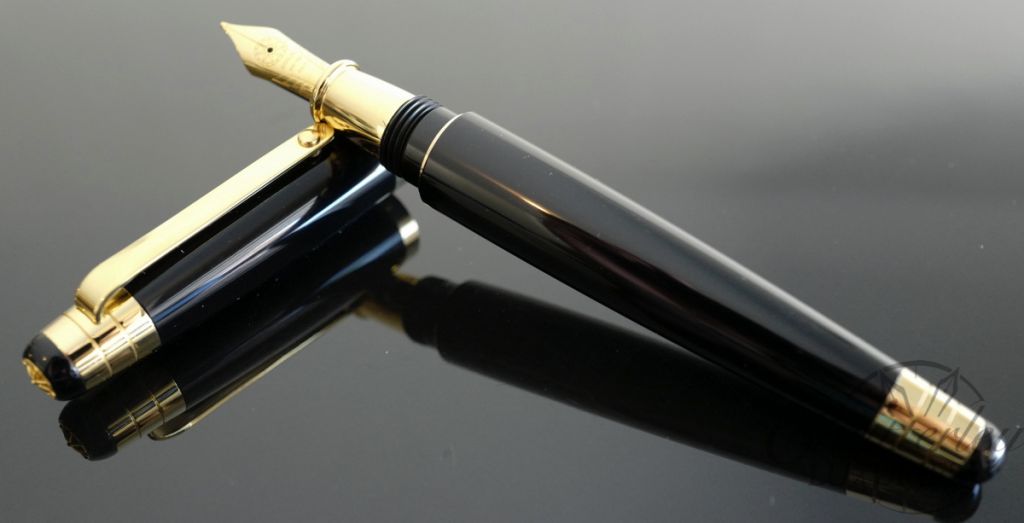 Signum pens can leave the production floor only after a meticulous manual polishing and a scrupulous quality control. For this reason people who use Signum pens can be sure that they are using a high quality product which is both elegant and reliable.
With the logo "signum" perfectly representing their devotion to quality and the willingness to produce only top level products. The Signum logo is a wheel obtained by investment casting, this wheel remembers the ones used in roman chariots and makes every pens' cap precious and unique. Essegi decided to use the brand "signum" only for their top level product.