Visconti Homo Sapiens Earth Origins Limited Edition Fountain Pen Collection
Earth back in stock and ready to ship!
Contact us for our Chatterley Loyalty pricing, info@chatterleyluxuries.com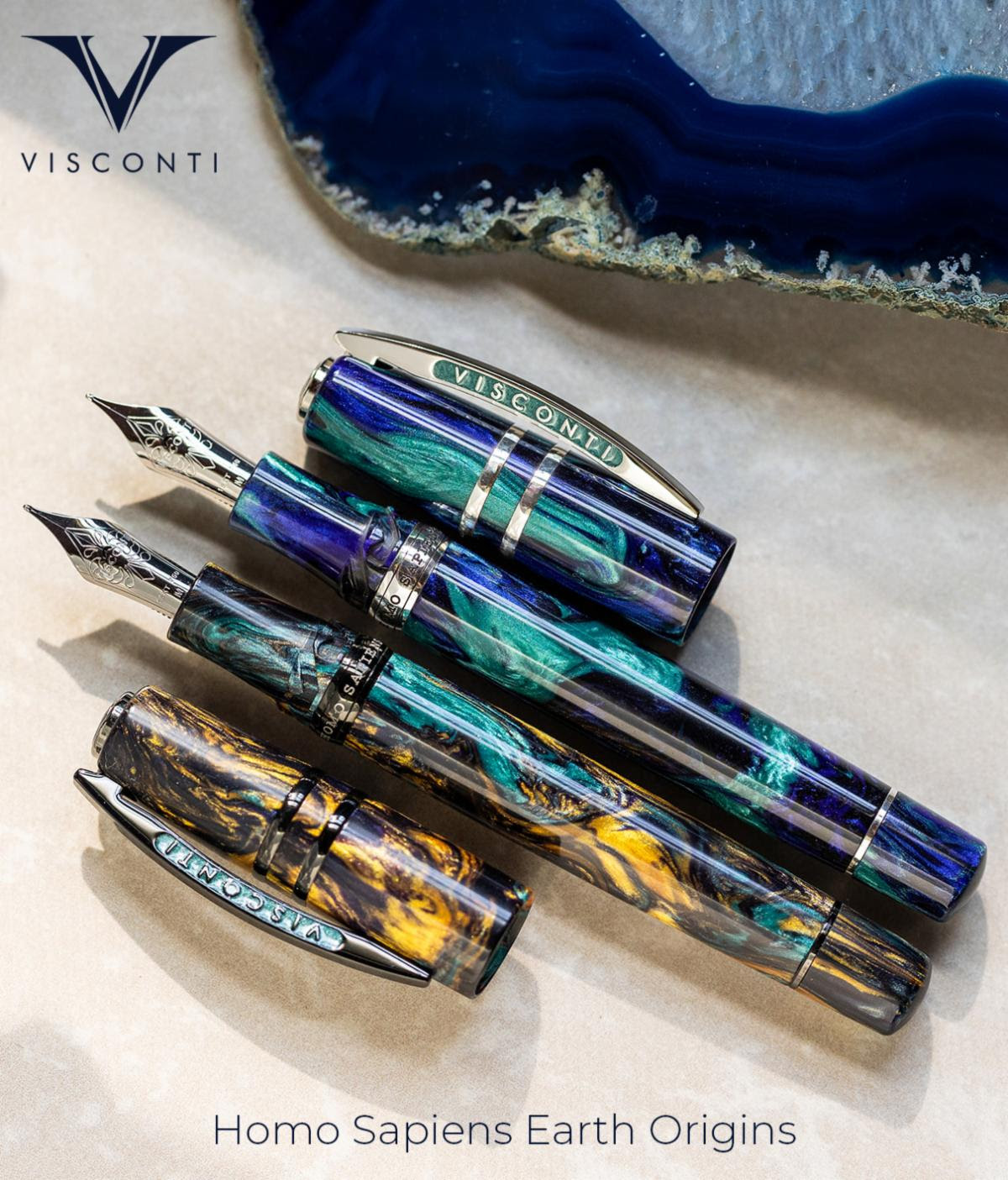 Visconti is thrilled to announce the launch of their latest Homo Sapiens collection featuring Jonathan Brooks' industry famous hand-mixed resin: the Homo Sapiens Earth Origins. Two pens inspired by the elements that make up our planet, water and earth, each limited to 388 pieces worldwide.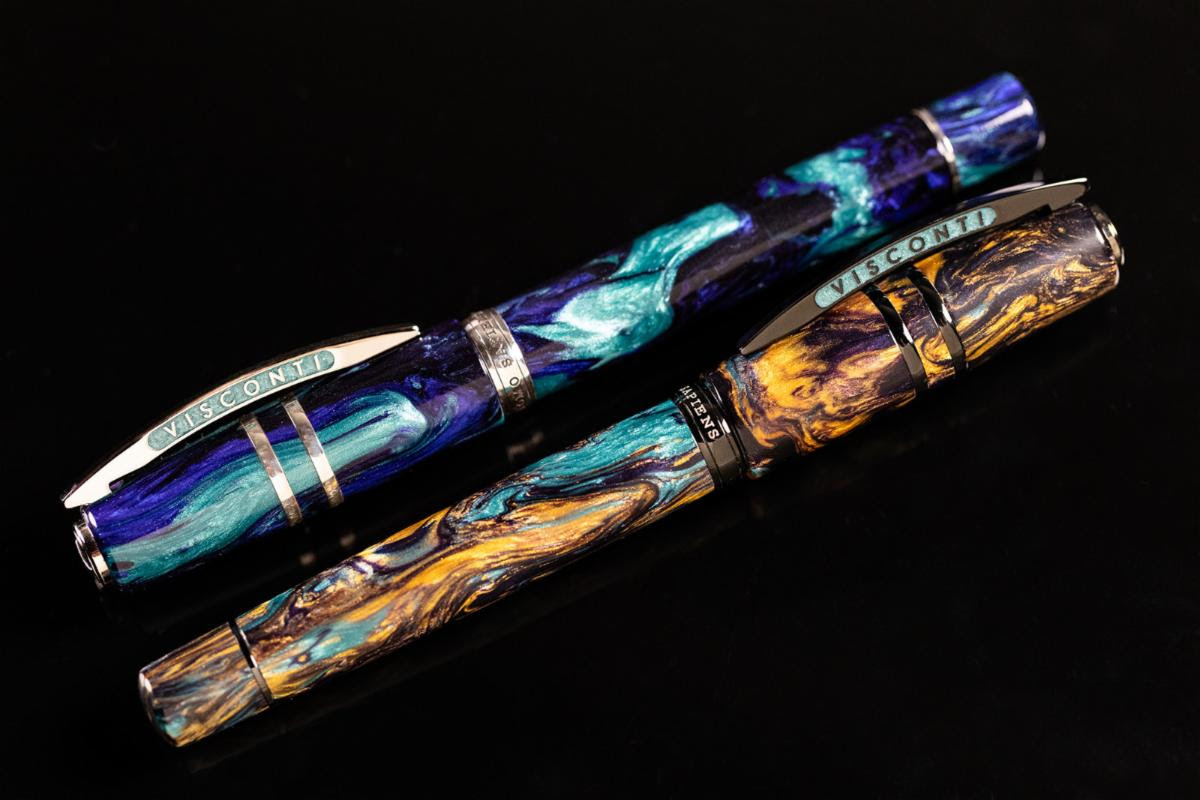 Homo Sapiens Earth Origins
The four elements come together in this collection to remind us of the origins of our planet. Earth, wind, fire, and water interacting to form the materials of our existence. Inspired by the mythical and primordial forces that shaped our planet and ignited the very spark of human existence, this collection embodies the essence of timeless energy and boundless inspiration.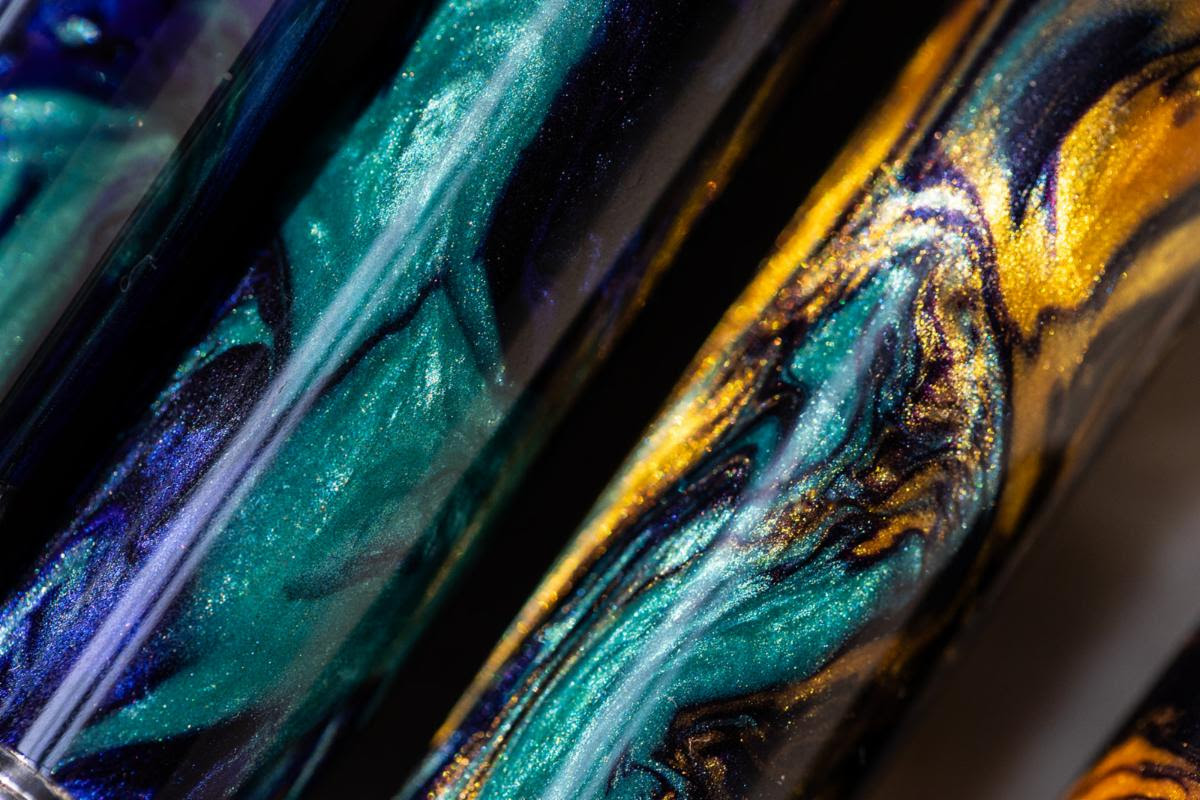 Available in two vibrant finishes: Water and Earth. These mesmerizing writing instruments bring forth the essence of the elements, igniting creativity and connection to the very core of existence.
Water
Deep purple hues and intense blue tones interweave with a vibrant iridescent teal bringing life to the "Water" edition. These natural resins are mixed and swirled creating images of the dark ocean depths and the glimmering light at the ocean surface. Each pen is accented by palladium trim to compliment the cool resin tones. The clip is filled with a bright, iridescent teal – an element that ties both editions of the Origins collection.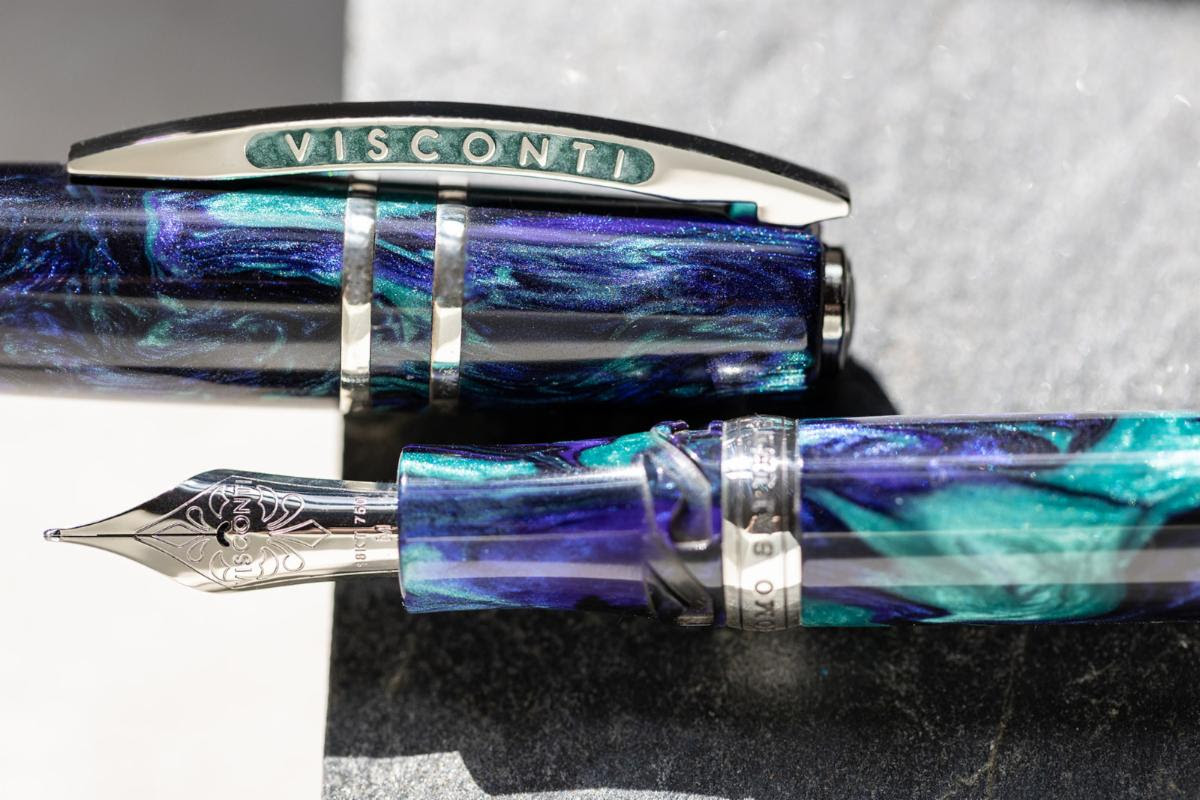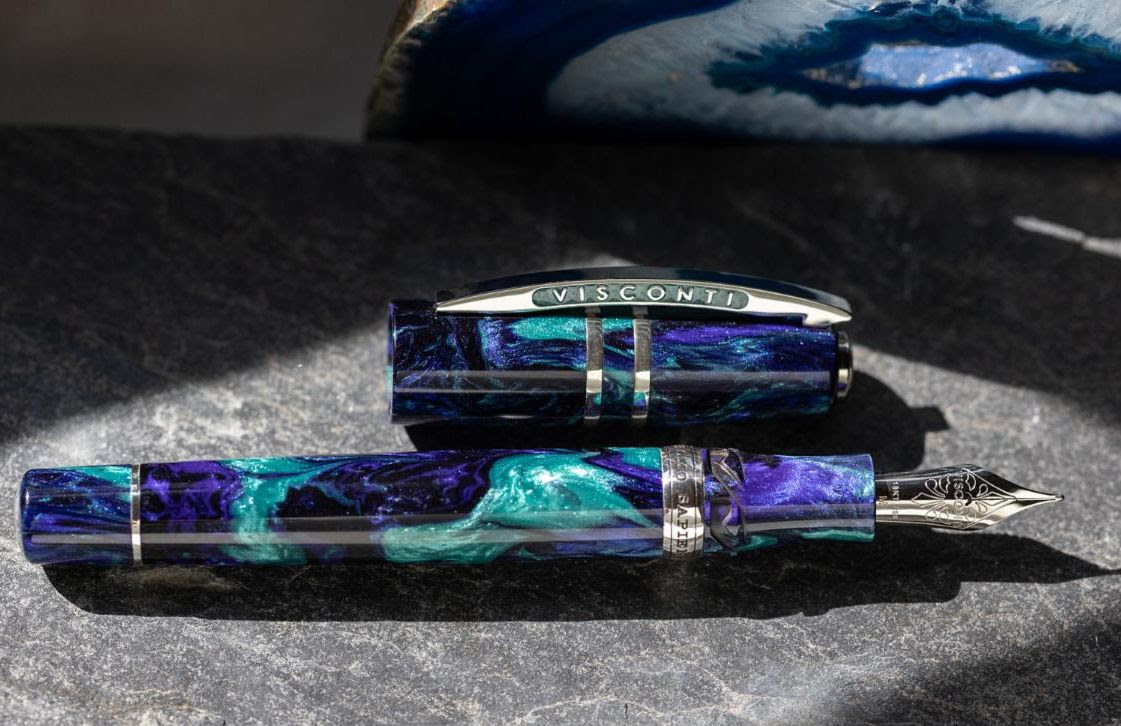 Earth
The "Earth" edition combines intense purple hues with swirls of vibrant gold and shimmering teal resin creating a uniquely intense pallet mix. This incredible combination of resin is complemented by black PVD trims which will transport every pen collector to all regions of our planet. The clip is filled with a bright, iridescent teal – an element that ties both editions to the Origins collection.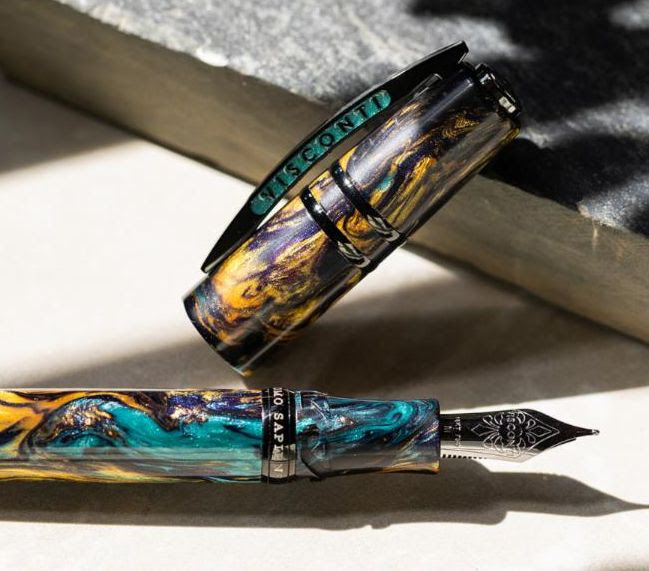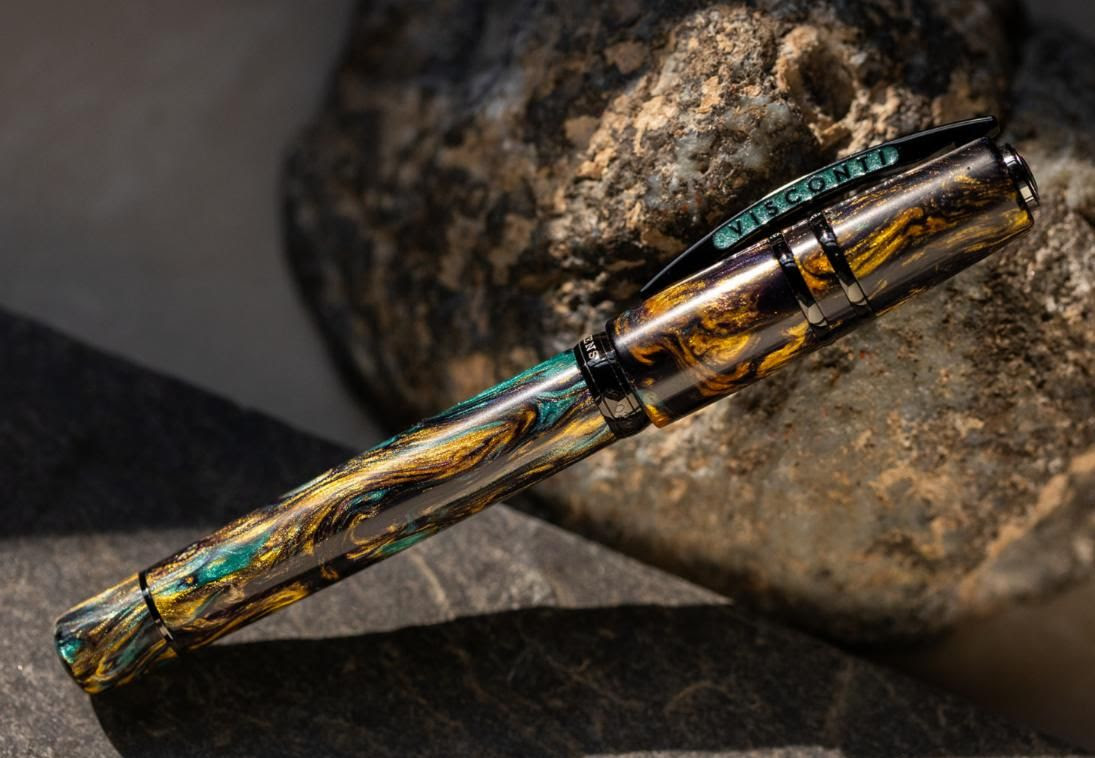 Double-Reservoir Power Filler
A vacuum filling system that is easy to use and has considerable benefits. Patented in 1998, this is arguably the most advanced filling system ever developed in fountain pen history. The user is able to fill the pen with the equivalent of 10 cartridges of ink, and thanks to the two reservoirs, prevents ink from leaking during air travel.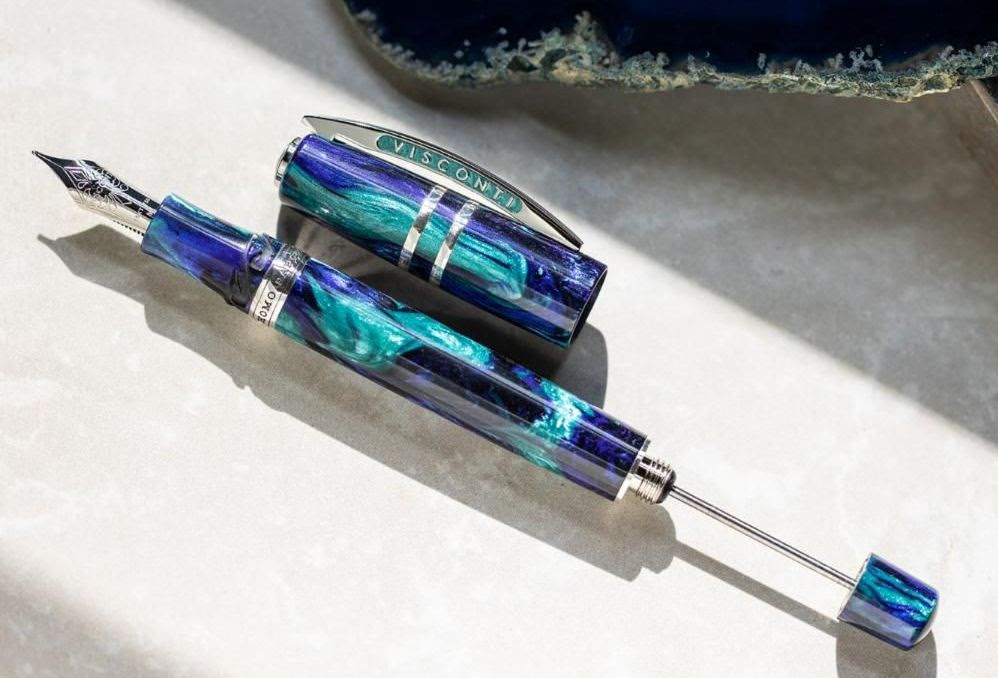 18k Gold Nib
Visconti's 18kt gold in-house nib hand-crafted and manufactured in Florence, Italy. Available in EF, F, M, B, and Stub widths.
Hook Safe Lock
This revolutionary closing system is very satisfying to operate and was created to lock the pen body into the cap to prevent the possibility of the pen accidentally unscrewing and leaking inside a pocket or bag.
MSRP $995
Homo Sapiens Earth Origins 'Water'
Edition: Limited to 388 pieces
Fountain Nib: 18kt white gold : EF, F, M, B, S
Filling System: FP: Power Filler, Double Reservoir
RB: Refill (A4002, 0.7mm)
Material: Acrylic Resin
Trims: Sterling Silver
Homo Sapiens Earth Origins 'Earth'
Edition: Limited to 388 pieces
Fountain Nib: 18kt gold with ruthenium plating: EF, F, M, B, S
Filling System: FP: Power Filler, Double Reservoir
RB: Refill (A4002, 0.7mm)
Material: Acrylic Resin
Trims: Black PVD over Brass