Visconti Homo Sapiens Lotus Garden Limited Edition Fountain Pen
Contact us for our Chatterley Loyalty discount
PICK YOUR PEN!
Because of the variation of these materials, we have taken a picture of the exact pen you will receive. Pick the pen you want from the pictures at the bottom of this listing and add that specific one to your cart.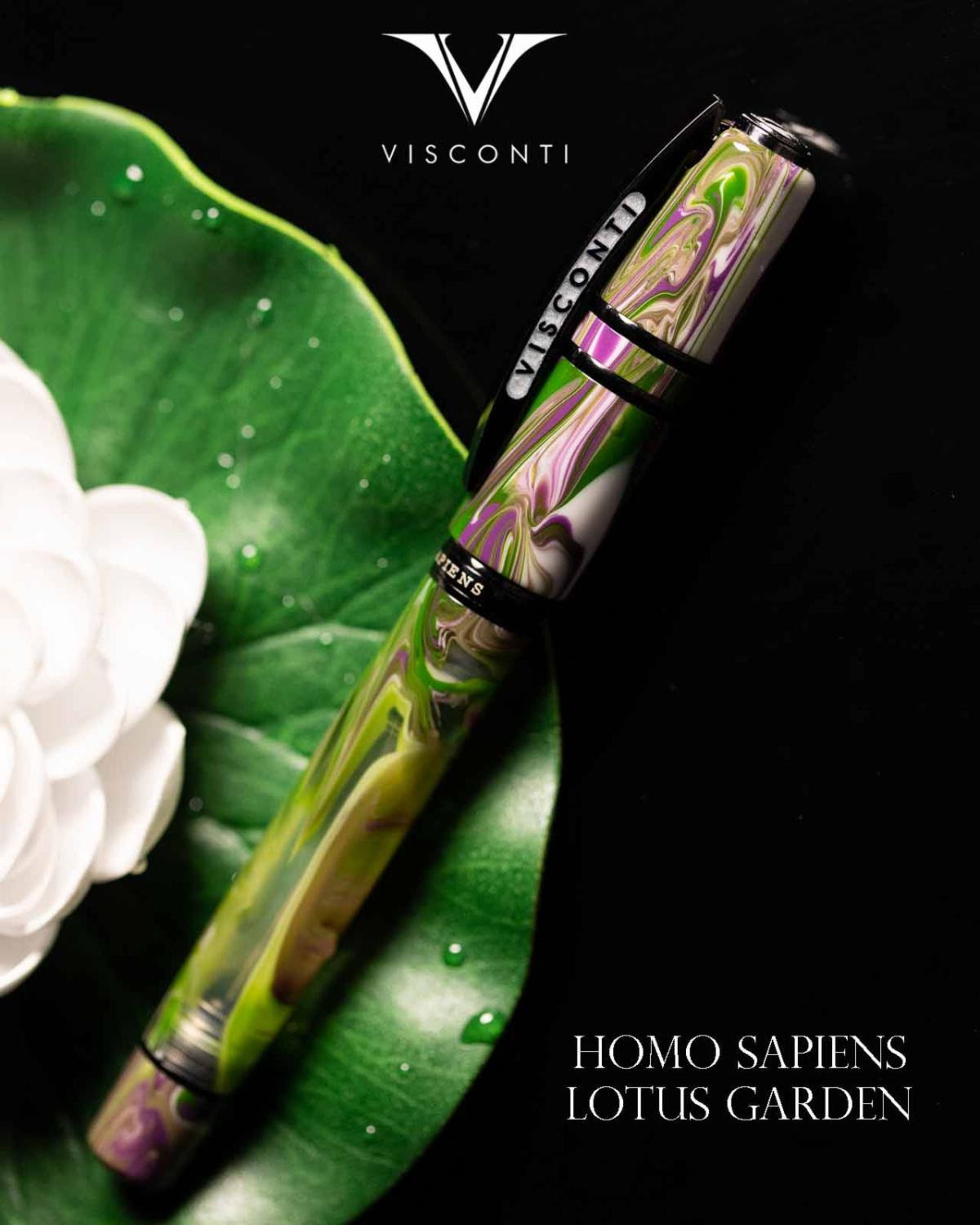 Visconti is once again inspired by the inexhaustible resources of nature: the Homo Sapiens Lotus Garden collection brings with it the magic and mystery of the lotus flower, in a limited edition of 888 pieces. And now for the first time, the semi-transparent Homo Sapiens has PVD Black trim!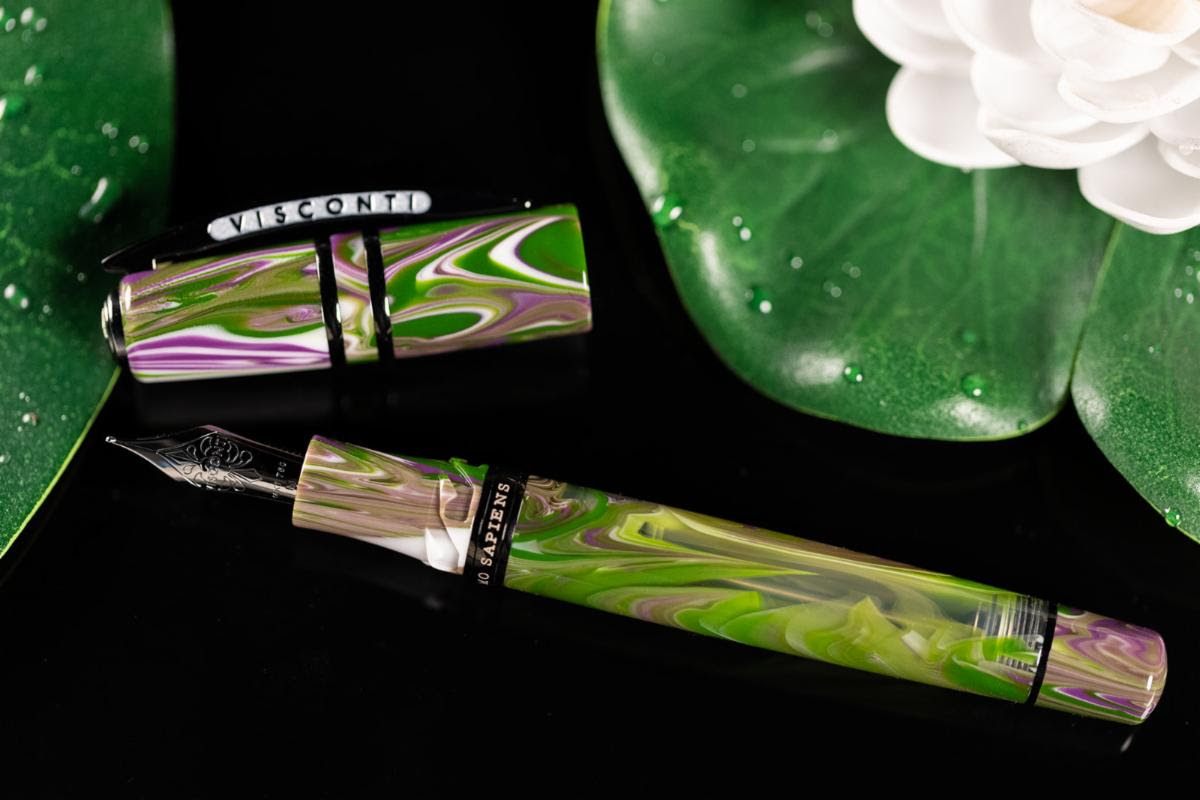 PURITY AND REBIRTH
The lotus flower is known in many cultures as a symbol of rebirth, strength, and purity. Its spiritual meaning comes to mind as we imagine this exquisite flower, with its roots latched in mud, submerged every night in river water, miraculously re-blooming the next morning sparklingly clean. The power of creation is in its DNA, just as it is in ours: Homo Sapiens, the Wise Human.
THE COLORS OF NATURE
For the return of our iconic Homo Sapiens, we have imagined the colors of the lotus garden, the fascinating environment which is home to the delicate flowers of the aquatic plant Nelumbo. The lilac, white and green of the pen are accentuated by the new black trim, which recalls the flower's reflection in dark pond water, adding to its mystery. Each element harmonizes perfectly, creating an elegant and modern collection that invites you to get close to nature and enjoy its incredible power.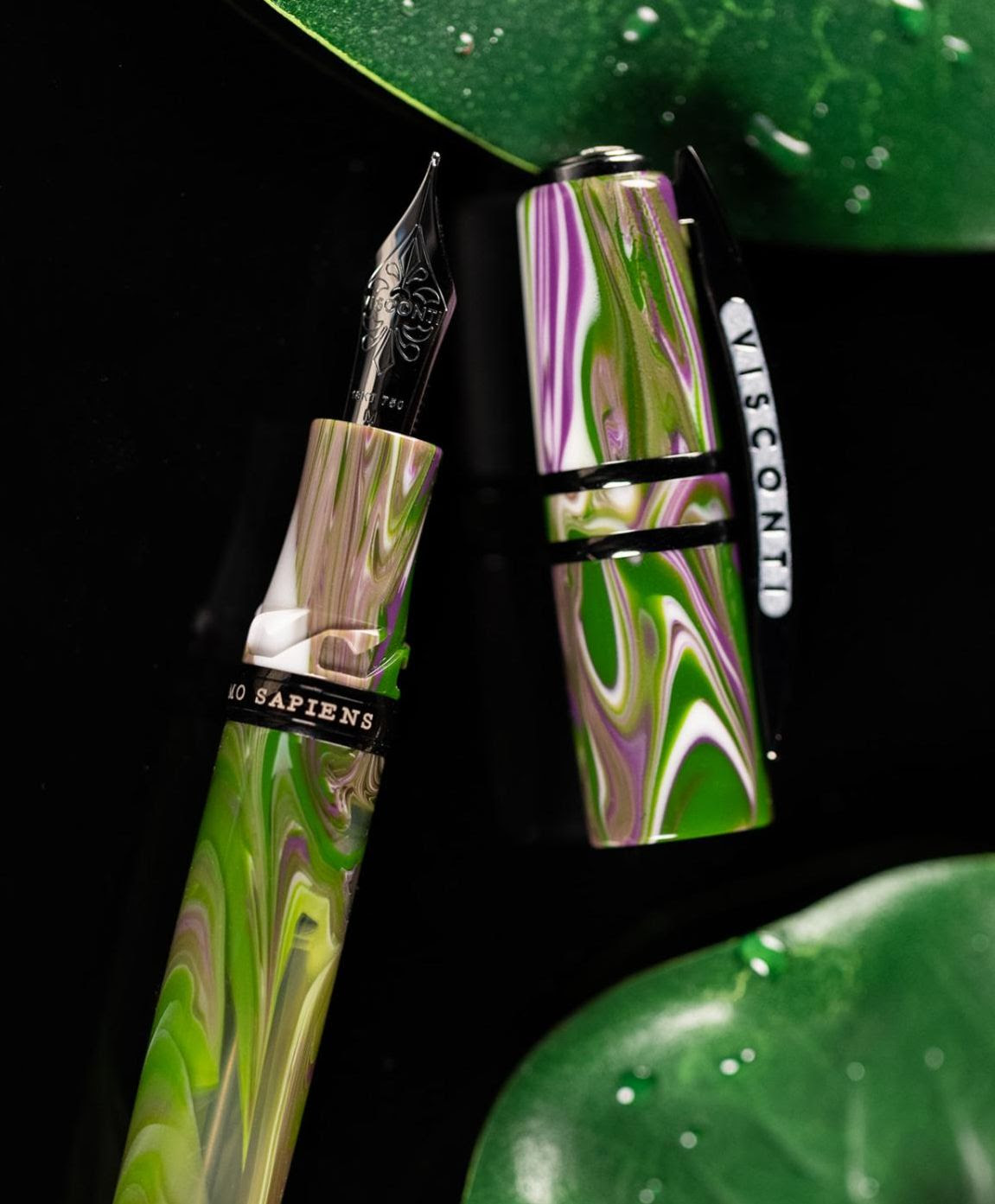 FEATURES
Type: Fountain Pen
Colour: Lilac, White and Green
Pen body: Over
Material: Acrylic resin
Nib: Au 18kt (big)
Nib Tip: EF / F / M / B / S
Nib colour: Ruthenium
Filling: Power Filler Double Reservoir
Closure type: Hook safe lock
Metal fittings: Brass
Finishing: Black pvd
Limited edition: 888
Double-Reservoir Power Filler
A vacuum filling system that is easy to use and has considerable benefits. Patented in 1998, this is arguably the most advanced filling system ever developed in fountain pen history. The user is able to fill the pen with the equivalent of 10 cartridges of ink, and thanks to the two reservoirs, prevents ink from leaking during air travel.
Hook Safe Lock
This revolutionary closing system is very satisfying to operate and was created to lock the pen body into the cap to prevent the possibility of the pen accidentally unscrewing and leaking inside a pocket or bag.
18k Gold Nib
Visconti's 18kt gold in-house nib, hand-crafted and manufactured in Florence, Italy. Available in EF, F, M, B, and Stub widths.
Limited Edition Box
Available as a fountain pen or rollerball, the collection is limited to 888 pieces. The Lotus Garden is truly a spectacular pen that comes in a beautifully crafted, limited edition box.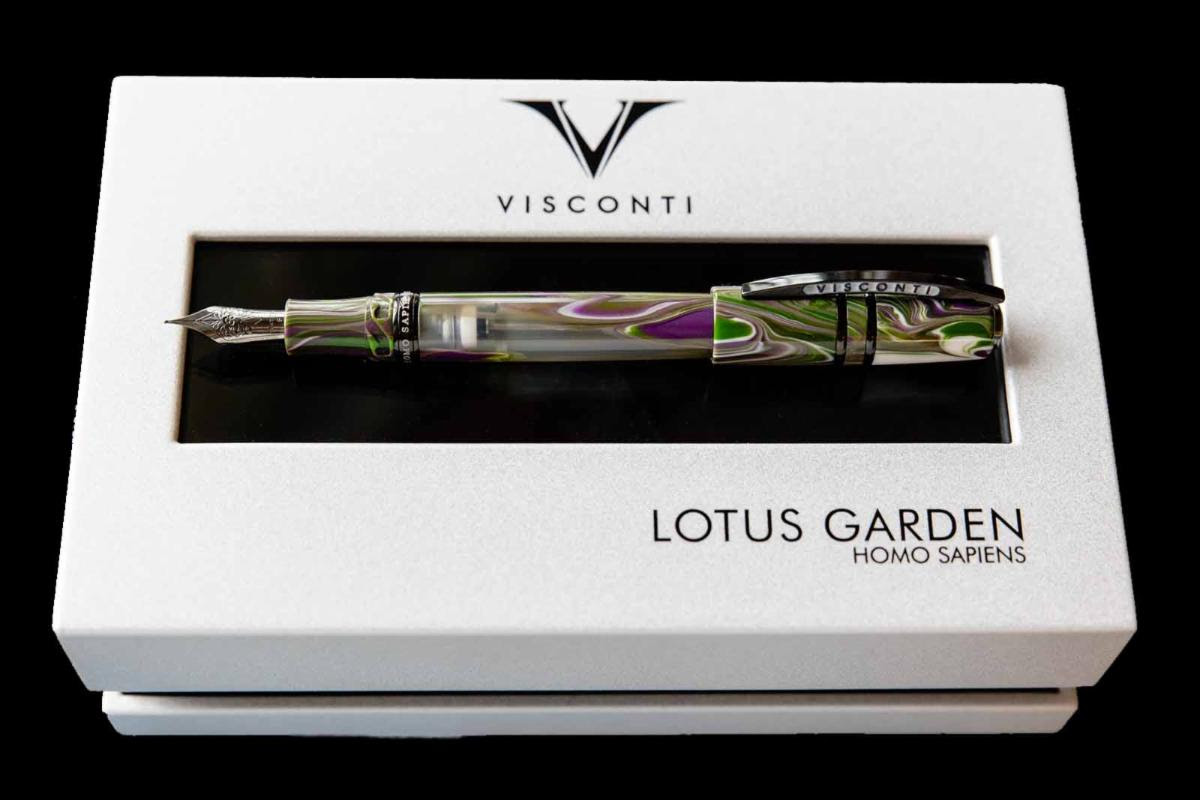 MSRP $1295
PICK YOUR PEN
Below are the pens we have in our inventory with their corresponding Limited Edition number.