Wahl Eversharp Decoband Gold Seal Oversized Limited Edition Demonstrator Fountain Pen with Rose Gold Trim
This pen is pre-owned, but never dipped or inked. Because of that, we can do a Super Flex or Flex nib on it. It comes with box and papers and full warranty.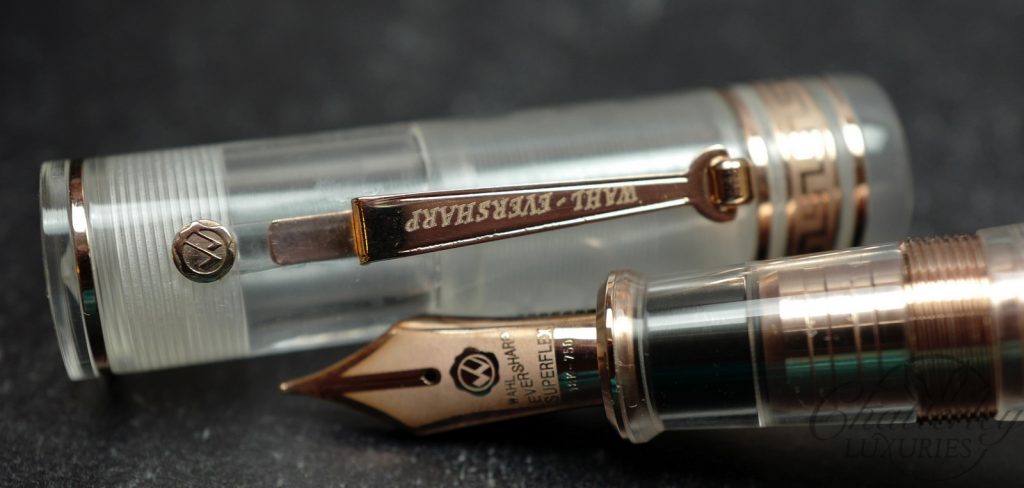 The Wahl Decoband in Clear Resin. Limited and numbered to only 25 pens worldwide.
The pens body, cap, section and cap finial are all made of clear resin. Unlike injection molded pens which almost all the other clear pens in the market, these are hand turned  and this makes them very difficult to make. 
 The parts prior to assembly are polished by using a polishing machine. But this only polishes the outside of the pen. So with 99% of the pens out there once this is done, there is just a final hand polish after assembly to ensure no scratches happen during assembly. But with the hand turned clear pens, this is not possible since they need to be polished on the inside. So every pen part has be hand polished on the inside, piece by meticulous piece. This is a very long process and makes these pens very unique. 
The trim on these are a Rose Gold which is coated on the nib, clip, trims and Pneumatic filler. 
The WAHL-EVERSHARP Oversized DECOBAND pneumatic filling pen with SUPERFLEX  nib and 2.0ml ink capacity sets a new standard for beauty and elegance by recapturing the classic design first introduced in 1929…only bigger and better!
Dimensions: 150mm long 23mm diameter at clip; 18mm diameter barrel
Material: Hand Turned Clear Resin
Clip and trim:  Heavily Plated Rose Gold or Ruthenium Plated Roller Clip and trim
Nib:  Rose Gold or Ruthenium (listed separately) Plated Solid Gold SUPERFLEX Personal Point 'All-In-One' nib ranges from fine to double broad by variable hand pressure 
Ink Filling System: One touch "Chilton Style" Pneumatic filling.  2.1ml capacity