Classic Pens Limited Edition LN2 Harvest Fountain Pen
This pen is lovingly used and comes with its original box. It has a Medium nib.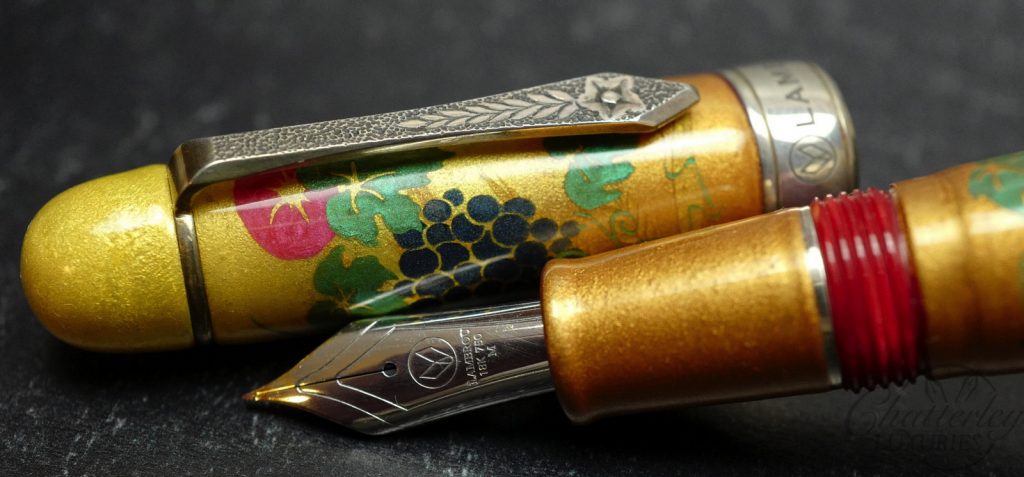 Limited Edition of 10 Art Pens.
Lambrou Pens LN2 Harvest Art Pen – Click image for full screen slideshow
The LN2 Harvest was launched in July 2020. This is the artist proof. This 6 inch long pen is based on the Lambrou Pens Oversize Legend hand crafted by Paul Rossi from Flame Red diffusion bonded acrylic. Paul also hand crafts the floral design clip from sterling silver.
Lambrou Pens LN2 Harvest Art Pen
The artist is Yoshitsugu Nakama, whose roots are from Japan but he now lives and works in New York. His first art pen painting for Lambrou Pens Inc. is Cherry Blossom on a full size Legend 766L pen model. He sells this same artwork on pens he creates in other forms to his other customers.
Lambrou Pens LN2 Harvest Art Pen
Yoshi is allergic to urushi sap which is toxic and instead creates his works with a modern, inert material which he seals with epoxy resin. The design on this pen is called Harvest and is based on an original watercolor by Jenny Lambrou to represent harvest time on the island of Cyprus. Yoshi painted the cap and barrel with grapevine leaves, bunches of grapes, wheat stalks, and morning glory flowers. The pen is coated in a pale yellow-brown to better highlight the wheat artwork. The blue seal, designed by Paul Rossi, represents the American Bald Eagle. Yoshi's work is similar to the techniques used to create chinkin maki-e.
Lambrou Pens LN2 Harvest Art Pen Detail
Paul Rossi is a multi-talented artist and craftsman. He began to make things at a very early age, in his native Switzerland, where he received his extensive training. As a teenager, he acquired the finest writing instrument his money could buy. His love of fountain pens blossomed in him the desire to make them. Today, Paul is well known and admired for his handcrafted pens, which are sought by collectors throughout the world.