Stipula Chatterley Rose Gold Vermeil Fleur De Lis Overlay Limited Edition Fountain Pen
This pen has been lovingly used.  It does not come with box or papers.  It is number 08/38.  It is equipped with a Stub nib that has been modified by John Sorowka to a smooth cursive Italic.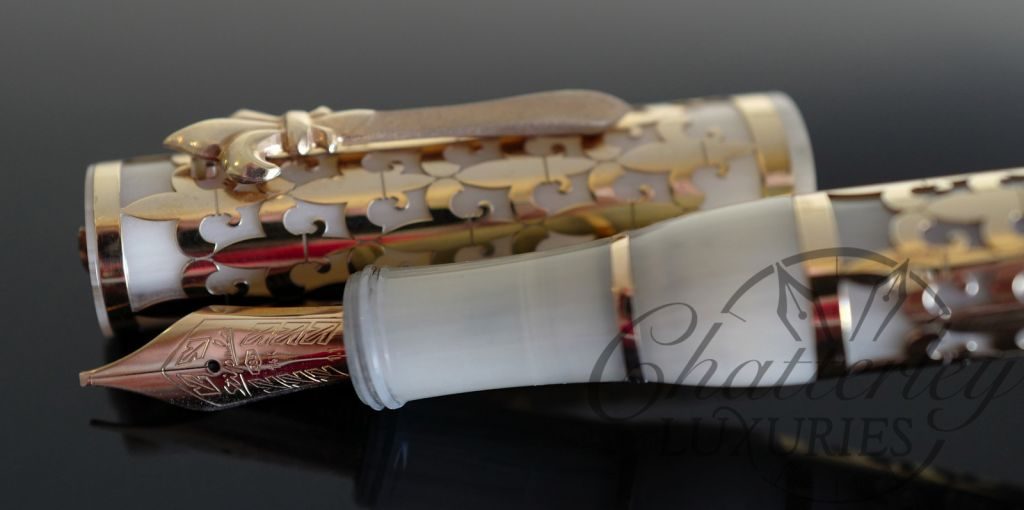 Stipula and Chatterley pens proudly presents another fantastic Sterling Silver Skeleton, The Fleur De Lis.
This is a beautiful pen, .925 Sterling Silver over ivory resin. This is the Rose Gold Vermeil Version.  The overlay covers the full pen, in a symmetrical pattern of repeating "Fleur de lis" .  The Overlay is smooth to the touch and even though each "Fleur De Lis" is touching, its lightly engraved so it gives the appearance that each one is separate.
The pen fills with the Stipula in house power filler and uses a 14kt nib.
This pen is numbered and limited to 38 pens worldwide.