Visconti Limited Edition Golden Man Fountain Pen
This pen is lovingly used and comes with a Medium 23k Palladium nib. It comes with its box and papers.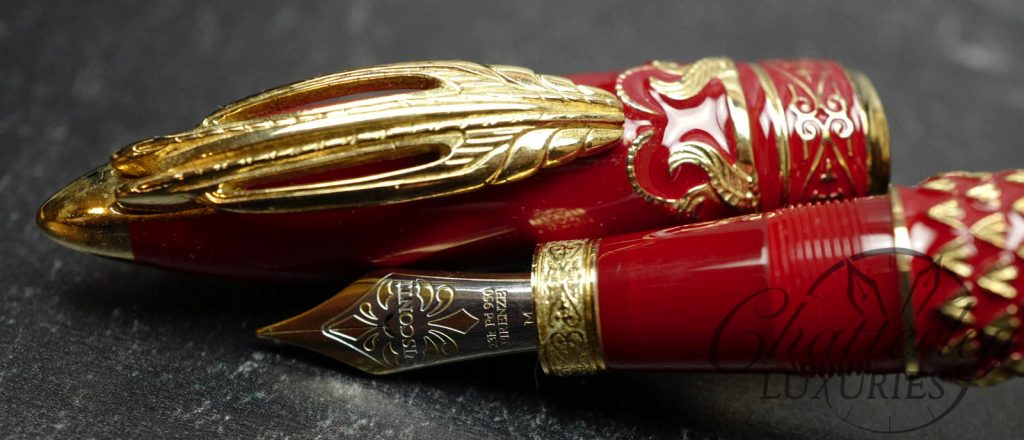 Forty years ago, approximately, a mystery warrior's tomb was discovered in Kazakistan; he was completely dressed in gold clothes. He lived with nomadic tribes wandering the steppes of Central Asia in the fifth century BC.
The Golden Man, a dark identity armed warrior, used to adorn himself with thousands of jewels – gems and gold – representing leopards, ibex, winged horses and floral motifs evidence of the animalistic art used by these nomads, rulers of the Asian steppes, to convey their emotions and their view of the world.

The fountain pen
Visconti's intention was to create a wonderful pen inspired by the myth of the Golden Man that proposed the same motifs of the Scythian art in a collection fountain pen, in which skilled goldsmiths have artistically reproduced the magic of the mysterious warrior.
The Golden Man pen is made in vermeil (gold plated sterling silver) with red lacquer.  The artwork is made in vermeil, with the "lost wax" technique.
It is equipped with Visconti's 23K Palladium Dreamtouch nib, available in EF, F, M, B, BB, and Stub.  The filling system is Visconti's well known power filler.
The gorgeous packaging features a large red and gold frame decorated with the same elements of the Golden Man.
This pen has an MSRP of $3950