The style of this pen is called Hanryo, which means companion. It is a line of pen that Danitrio created a few years back to accommodate customers who prefer a slightly smaller pen.
Danitrio makes remarkable hand painted pens using the Japanese skill and craftsmanship that has been mastered over the last few thousand of years. Maki-e is performed on the pen, after it has been hand selected, and prepared.  The Maki-e on this pen is more than just paint on a pen, it has texture, it has character. This is achieved through many many days and hours of carefully applying the Maki-e. On each of the pens that are hand painted, you may find the artists signature.
Good basic paintings start with base painting, which the craftsmen paint twice or three times with Urushi mixed with finishing powders to make the base hard and durable.  Then followed by the interim paintings which is done by one or two layers preparing for finishing paintings.
The base for Urushi paintings must be smooth and strong in order to have a good Urushi painting, which will last thousands of years. When the base is ready for painting, the first painting uses Sabi, Urushi mixed with polishing powders, as its base painting and call it Shita-nuri, the base painting. Then, Naka-nuri, the interim painting with Urushi is preparing for better Uwa-nuri, the finishing part of painting. The color of the interim painting has to be selected according to the color of the finishing part of painting. All these works are usually done by Nu-shi, craftsmen of Urushi paintings, painting 7 times in average and it takes 2-3 weeks before the Nu-shi can send back the pens to our Maki-e sh, who will do more Urushi painting works or Maki-e onto the pens.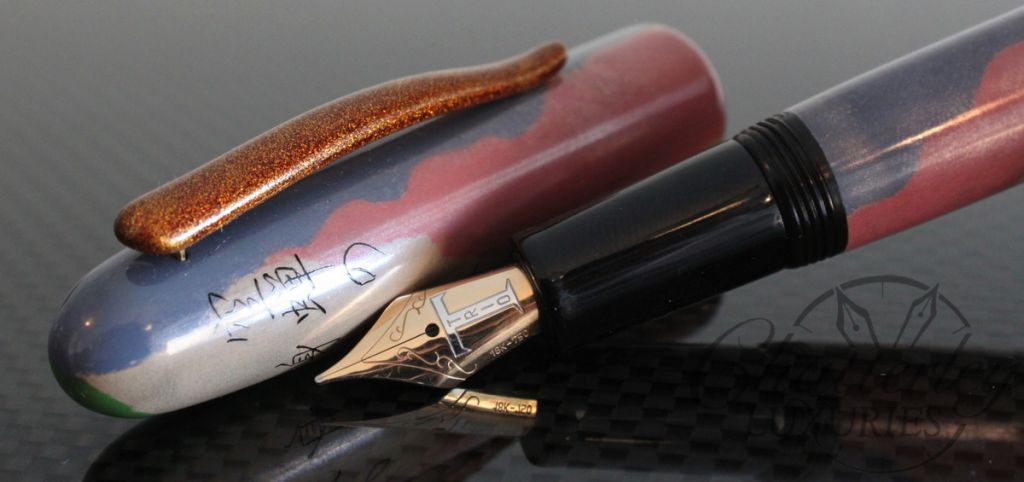 Basically, Tame-nuri (Ta as tag, me as met ) uses Suki Urushi, transparent (actually rather translucent) Urushi painted over the colored Urushi, which was already painted as the interim layer. If the Shu (red) Urushi was painted as the base color, and then, the transparent Urushi is painted, it is called Shu Tame-nuri or Shu-dame. And if Kuro (black) Urushi was painted first, and then, the transparent Urushi was painted over it, it is called Kuro-dame. After the transparent Urushi was painted, the pen will be finished by another finishing technique, either Togidashi or Hana-nuri, depending on the desired outcome.
In the beginning of the process a decision is made whether this Tame-nuri should be finished with Togidashi or Hana-nuri, because different Urushi is used for different finishes. When finishing with Togidashi, oil free Urushi must be used, while oiled Urushi should be used for Hana-nuri. The reason for this is because oiled Urushi will help Urushi naturally shine, but it should not be used when it needs to be polished or burnished. And oil free Urushi is good for polishing and burnishing.
Togidahi uses different materials for polishing and burnishing repeatedly until the luster is brought out to the result they want. It is very time consuming, painstaking work. Hana-nuri means painted without those repeated working by polishing and burnishing in order to bring the luster out. Instead, Hana-nuri uses oiled Urushi in the beginning which helps the Urushi naturally shine after it is dried. Hana-nuri is a much simpler method of Urushi painting, though it won't be as shiny as the Urushi finished with Togidashi. This natural shiny look is more popular than Togidashi especially among the tea ceremony society in Japan.
There is no 100% transparent Urushi. The clearest Urushi still has a light brown or amber color. The interesting thing with Tame-nuri is when the transparent Urushi is painted over the color Urushi, the color will change because this transparent Urushi is NOT 100% transparent like man-made "Urushi" which is 100% clear.
The specialness of Urushi is that the Urushi has a layer of membrane and the color of the layer will be lighter and shinier, and the Tame-nuri will look lighter and shinier within several months to a year.
The pen fills via cartridge convertor and is fitted with a size #5 Medium 18kt gold nib.
N-9111, Genji Monogatari with Kanji in gold, Silver, Black. MSRP $1600
Artist info:
Tatsuya Todo. Signature: Kosetsu. Born in 1954.
1973 Learnt from Urushi master, Kiichi Ikeda in Kanazawa
1976 Learnt from Maki-e master Masanori Omote
1990 Began to exhibit at Japan Traditional Urushi Craft Exhibtion and exhibited every year for 8 years
1991 Began to exhibit at Ishikawa Traditional Urushi craft Exhibition and exhibited every year for 8 years also.
1995 He was recognized as a Dento Kogei-shi by the Japanese government.
His works were highly recognized and accepted by many other major exhibitions since 1995 until today.